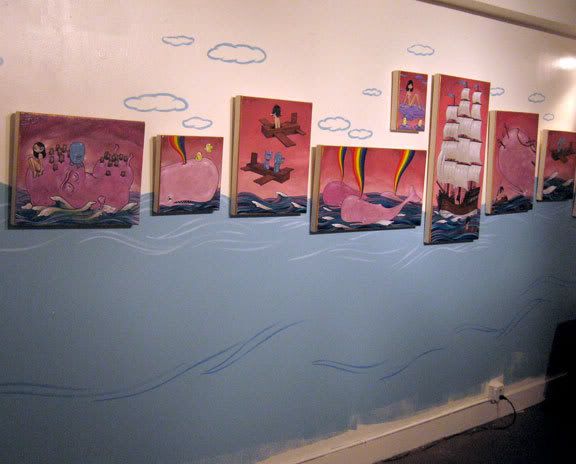 Other things going on lately... I am supposed to be getting some ink in the next month or so, there is a little blurb and some pics in the new issue of
Metropop
. (I don't think it's out yet) My billboard which will rise again and go back up on some yet to be named location in LA around the 12th of January is featured in a spread about Peter Schulberg (the brains behind the operation) and
Eco-Logical Art Gallery
in
BPM magazine
. (see above) I also have a spread in the new issue of
Faesthetic
(sneak peek on their website) so keep your looking balls on the newsstands!
the other two pics are of an "installation" I did for the December show at the
Hive
. Ok, so while I'm happy with the way it turned out and how easy it was to throw together, it's not really an installation, more like some paintings on a wall with some related paint on said wall. I will be the first to come out and say that merely painting on a wall does not make an installation, used to be that such a thing was simply called painting. Nor for that matter does hanging, paintings in a particular manner against a wall or installing art into a space necessarily indicate an installation piece. There are a lot of cool things being made these days and while they may break the grid of the canvas or incorporate sculpture or mural like elements. I think it's little more than euphemism in calling these works "Installation pieces". I think we should revise the vocabulary to include terms for describing varying degrees of painting/installation/sculpture/paradigm shifting, or just drop the descriptors and euphemisms and just let it be art, and subsequently worry about whatever that may be.