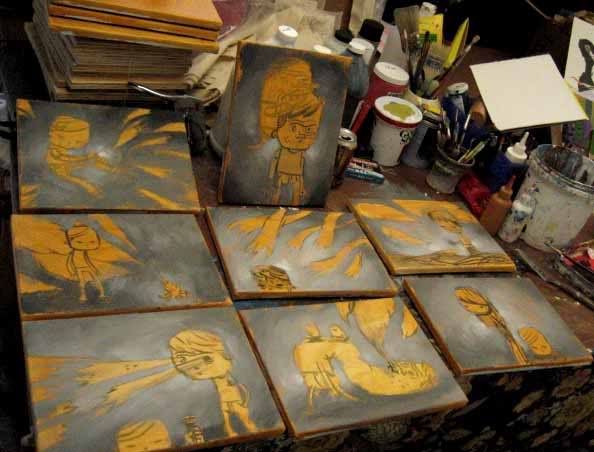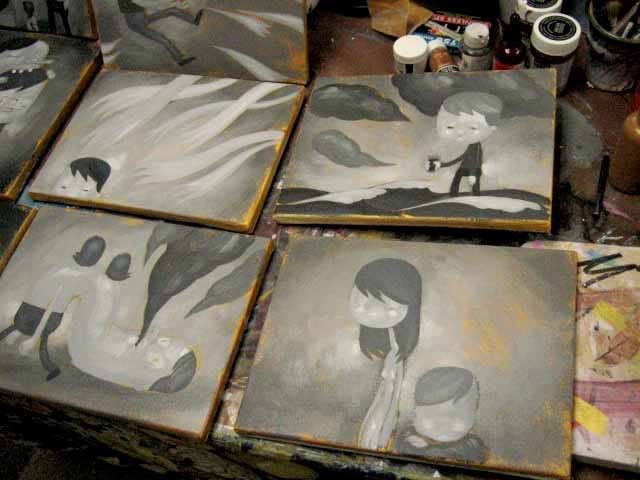 A couple shots from the studio, the first two are some progress shots of some new pieces for an upcoming show at Black Maria Gallery. I'm changing it up a bit this time around and trying some new stuff out. I think it's about time; I need to throw something new into the mix every now and then in order to keep painting exciting and new. This time around I'm going with the limited of all limited palettes, a new stain color, perhaps some patterns, who knows? The pieces are loosely based on the
TEN ESSENTIALS
that one should never venture into the wilderness without which I learned about in Boy Scouts so many years ago.
The last pick is the newest addition to the studio ephemera: an unfortunate looking bloated frog forever playing the accordion which one of my students brought back from Mexico City. It makes one wonder: does he play a happy or a melancholy song, for whom does he play, and how does he tap out the rhythm with his feet firmly nailed to a block of wood?
For anyone who knows/cares. The marathon training continues; we ran 26 miles on Sunday, fuck yeah!
Here's the press release/info for the upcoming Black Maria show: Oh, and for the record, I hate nostalgia and any thing remotely resembling the sentimental.
Menace & Charm: The Nostalgia of Childhood
Artists: Jaime Zollars, Kathleen Lolley, Alex Noriega, Matt Burlingame, P. Williams,
Leanne Biank, Juri Ueda, Aaron Hitchcock and CJ Metzger.
26 April – 24 May2008
Opening Reception: Saturday 26th April, 7:00 – 10:30pm
Black Maria Gallery: 3137 Glendale Blvd. Los Angeles, CA 90039
Gallery Hours: Tuesday – Sunday, 12pm until 6pm (or by appointment)
This exhibition explores the dark and innocent cognitions of
childhood. According to Black Maria Gallery director Zara
Zeitountsian, "It's not about our actual experiences, but our
memories. Vivid yet nonsensical treasures created in our
imaginations, metamorphosis into lasting imagery. These images
are shaped by our environment and give us an uncanny sense of
nostalgia."
The work in this exhibition gives these perceived
memories a home. Demons, fairies, putti, mythical
beasts and the like will converge on the walls to
conjure memories and dreams.