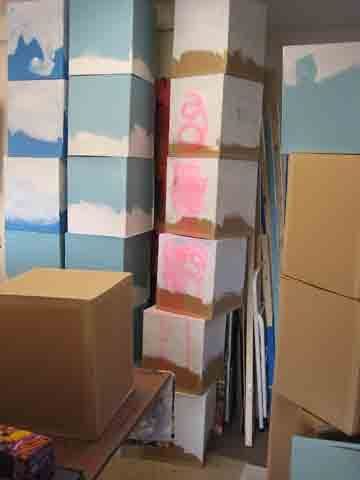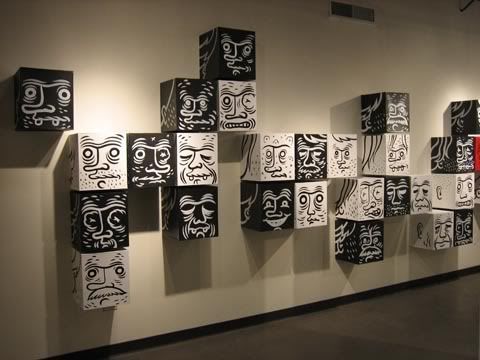 Ok, big-ish show, I've been working on the elements of the installation piece for the last couple weeks. Above are some pics both of the work in-progress and installed. Below is the information for the show/statement etc. it's a really good one, I promise. Also I have plans for the elements of the installation after the show comes down, (TBA) kind of a public art thing. Hope to see you there.
"Intersections" @ Cypress College Art Gallery
Opening Reception: Wed, March 12th 6-8PM
Cypress College Art Gallery
9200 Valley View StreetCypress, CA 90630
714.484.7134
It has become obvious that many young painters have shifted their concerns from traditional discourses within painting toward discussions that extend the medium toward new trajectories. Recent art school graduates—along with many emerging artists—have gained inspiration from the graphic languages of the commercial world. The return to the handmade and the hand drawn within the commercial fields of graphic design and illustration, are a reaction to the prevailing influence of computer technology in those fields.
While there is no doubt the artists being surveyed in Intersections are artists who work within the support structure of the art world, the influences one can see from the world of the larger visual culture is nothing but evident. Intersections brings to light these dichotomies, attempting to provide a platform for discussions on this new intersection within painting/design.
Intersections will be held in the new Cypress College Art Gallery. The new CCAG is located in the heart of the Cypress College campus. Intersections will open on Wednesday, March 12th and run thru April 10th.
Artists taking part in "Intersections":Anthony ClarksonJordan CraneL. Croskey
Ekundayo
Tim Evans
Brent Harada
Kiel JohnsonTimothy KarpinskiKenneth Lavallee
Melanie Moore
Mike Park
Chris Ryniak
Juan Thorpe
Stephen Tomkins
P. Williams
Cherri Wood
Co-curated by Thinkspace Gallery and Giant Robot
http://www.thinkspacegallery.com/
http://www.giantrobot.com/