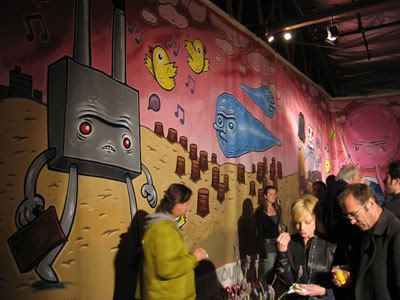 Last night was the opening of the "Off the Wall 3" show (see press release in an earlier post) and let me just say, it was Awesome! I had a great time meeting the other artists and commiserating on the experience of scale. I talked my voice raw.
My full
size
billboard painting "LA Allegory" occupied the entire back room of the gallery,
strategically
placed by the refreshments. It's so large that a full
quarter
of it had to wrap around to a side wall. It wasn't until
seeing
it in such a fashion that the full scale of the project really struck me. All that crouching, hunching over in the sun, navigating the wet patches of paint and constant sweeping of leaves did add up to something. I have to tell you, It felt good to drop the thing off a couple weeks ago have it out of my hands. With it hanging in the gallery as such, already it feels like it's taking on a life of it's own. I'm quite excited about the prospects of where it'll go next. which should happen in the next 10 days or so. As soon as I find out I'll post something.