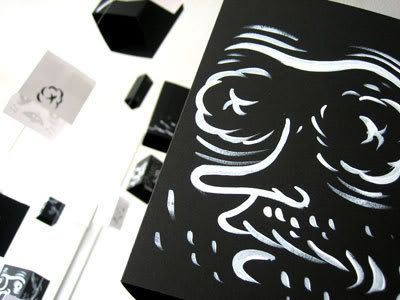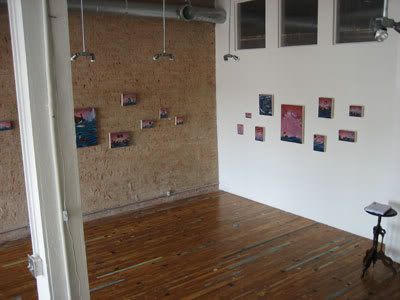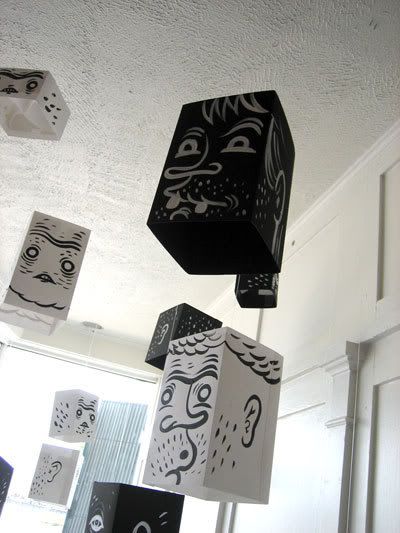 Got back from Dallas last night. J. and I were out there for the opening of my "May the Sea Swallow Us Whole" show at the Pawn Gallery. I can't begin to describe what an amazing time we had.

After cabin pressure troubles aboard one plane that was so old, that portions of the interior had been repainted several times yet some how remained filthy, and overhead lights that flickered on their own accord, after circling around in the air a few times, we landed a second time in Phoenix in two hours got on a slightly newer plane and were on our way. We arrived a couple hours late, but stoked to be alive. Mark and friend Anthony picked us up at the airport and gave us a late night whirl wind tour of the city while looking for an open place for eats. There was a little loft in the back of the gallery that was ours for the weekend with a futon upon which we crashed hard after a long day of travel and for me at least, a hectic week in prep for the show and everything else that has been keeping me far too busy.

The next day we walked around the neighborhood of Deep Elhum Where the gallery is located, an old relic rich in the history of Texas Blues and in danger of being rebuilt and rebranded. we walked to the farmer's market, J. bought apples from Washington State, and plums from Chile. We spent most of the day assembling the instalation piece I had brought with me and then took a nap. That night was the opening of the show which was an absolute blast! I met a ton of fantastic, interesting, supportive, sweet and passionate people.

The next day Mark met us for lunch at the delicious Cafe Brazil, toured us around, and took us to a the Nasher Sculpture Center. we then went back to the gallery for a "Cinco-De-Drink-O" party complete with keg of mystery Mexican beer and fajitas hosted by Kenny and amazing artist who has shown with the Pawn Gallery in the past. Later we went to an art that I was under dressed for, and then on to a comedy show cabaret thing that was funny and entertaining mostly in that Abby Hoffman sort of way.

The next day, after a massive sleeping-in late and long slow breakfast at the All Good Cafe, we headed off to the airport. We were delayed by tornadoes and had to sprint across the Phoenix airport for our connecting flight but made it home none the less.

Thanks to Mark and David and everyone else we met in Dallas!