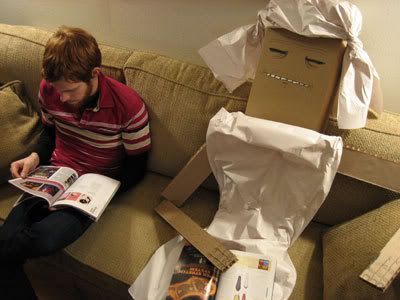 After giving it about twenty four hours of thought, I think that in addition to being a public digital diary complete with musing, swooning and rants , I'll also be using this blog as an excuse to show off things I'm working on that may or may not eventually make it on to my website, and for that matter may or may not otherwise have seen the light of day. Suffice to say, I'm always working on something, and usually something in addition so a few other somethings. The trying out of new ideas, cooking up art schemes, building mini-
mock ups
, and in general just plain messing around, is at points a minor subtext to whatever else I'm working on and at other times manages to overwhelm. I'm extremely
easily
distracted when it comes to new ideas and after a few years of coping with it and trying to figure out how much is just enough to put in to my R&D efforts, it seems like the best way to deal with this has been to simply work through the ideas, try stuff out, and make a couple objects to see what sticks.
Pictured above, My brother sharing a couch with an
Ikea
box/packing material woman. she is
opinionated
and passive
aggressive
which is strange considering she is cardboard and little else. It was late one evening, S. had just finished setting up his new furniture like the well designed
particle
board creations that they are. The boxes and packing materials were in a pile waiting for someone to muster the energy to dump them in the recycle bin. I've been thinking
a lot
about reusing materials and
seeing
the
potential
of
normally
trashed items to become something else lately, not that turning
trash
into art makes it any more useful, but if I can use previously employed and otherwise discarded materials to make things, then I'm going to
dammit
. Of course that raises the question about the
archival
nature of materials employed for the creation of art, which has a very specific and finite system and chemistry that has been established and tested over the last thousand years, and thanks to science been confirmed in the last fifty, but I'm sure I'll blab more about that later. Not to worry, the
Ikea
box woman didn't end up in a museum, rather she was recycled and is likely once more a box hugging the corners of some cheap
particle
board furniture.
The other Pic is a couple examples of books I've bound. I'm kind of a sketchbook fiend and after using much of what was already on the market, I decided to learn how to make my own so I could take advantage of the paper I like to use and keep them to a size
convenient
for me. Of course, after making a bunch of them, the book making has tapered off a bit because it's just so much easier to, purchase a new sketchbook when I need one. The book in the back is a sketchbook I made for S. and the one in the front is My entry for the International Flip Book Festival. When I have the time to figure out how, I'll make a little animation of the
flip book
and post it someplace, perhaps here.